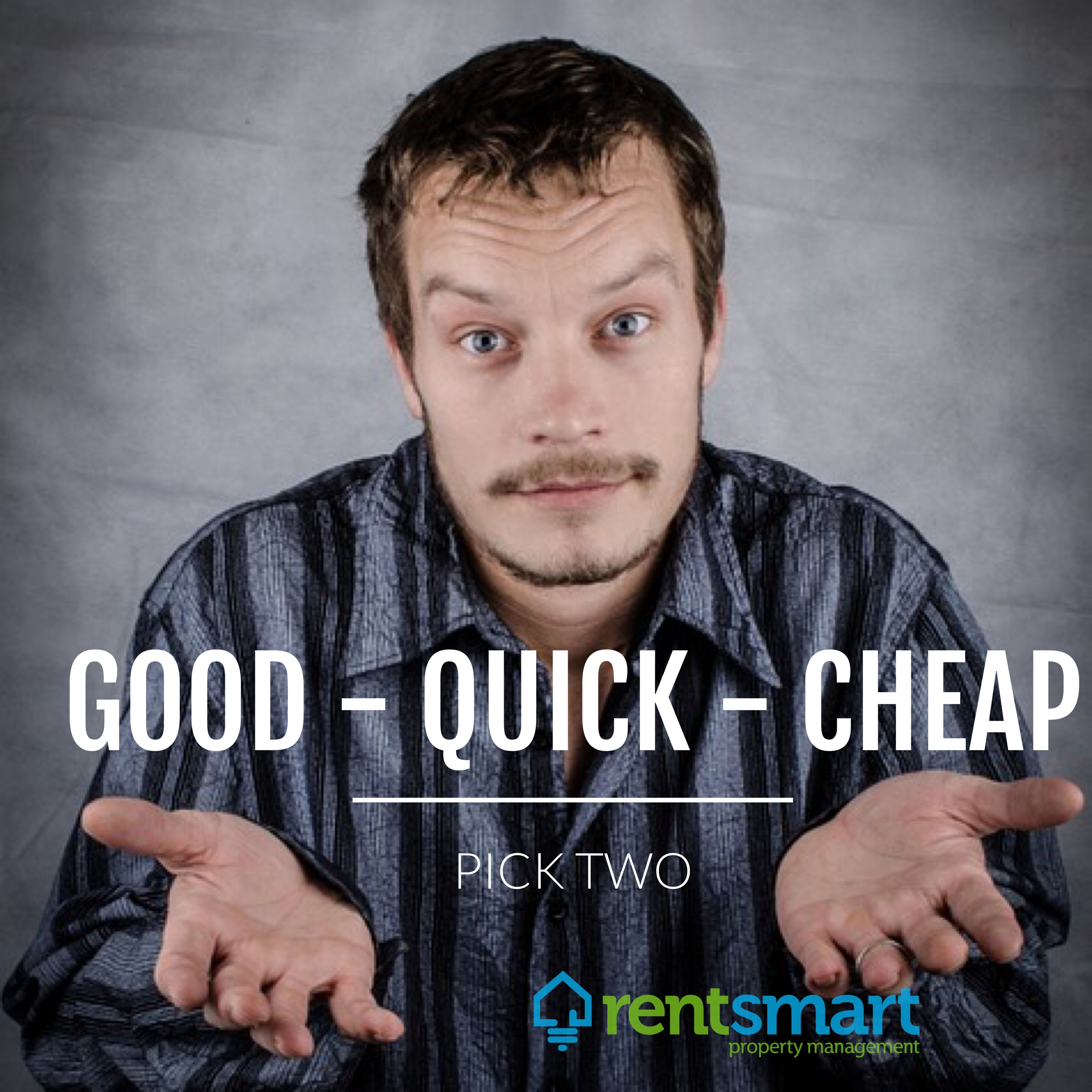 Looking for the best property manager in Missoula? The best property manager in Missoula is the property manager that best suits your needs. We find that consumers are driven by three unique forces… speed of performance, pricing and quality. My old accountant had a sign hung up in his office that said simply "Good, Quick, Cheap… Pick Two!".
When looking for the best property manager in Missoula, give some consideration to what your needs are. Would you rather work with a boutique style office that delivers exceptional service, or a volume operation that has rock bottom pricing? Are you more concerned with the quality and responsiveness of your Missoula property manager or more concerned about tight margins that makes shopping for the cheapest property manager essential for the cash flow of your Missoula rental property?
Why many consider Rent Smart Property Management is the best property manager in Missoula is due to our responsiveness, our ease of availability, the systems of convenience we have put in place from online rent payments and applications to video marketing tours to ease the process for those on the hunt for Missoula rental properties. These systems of convenience create a path that leads them directly to our managed properties, and our clients receive a direct benefit. The systems of convenience coupled with ease of communication, attention to detail and responsiveness creates a foundation for a positive customer experience and develops the foundation of the relationship for the duration of the tenancy.
The success of your rental property is dependent not only on the quality of your Missoula property management company, but equally dependent on the quality of resident placed in your rental. Happy residents tend to stay. And if we can offer them the paths of convenience to pay their rent online, and an online communication platform to assist them with their maintenance needs, and be responsive and attentive to those needs, we are laying the ground work for a lease renewal from day one.
As you may have guessed, Rent Smart Property Management is not a volume operation. We are hands on, relationship driven, with proven systems in place to give our clients a competitive edge in the Missoula rental market.
So, who is the best property manager in Missoula? We think it is Rent Smart, and we have heard it time and time again from our clients and customers.